ATMON FL URBAN II

ATMON FL URBAN II is a standalone, mobile measuring system for gaseous and particulate air pollutants.
It's designed to be carried by Unmanned Aerial Vehicles (UAVs, or drones).



| | | |
| --- | --- | --- |
| MEASURES | CONTROLS | INFORMS |

Basic controlled and measured media

CO - carbon monoxide,
SO2 – sulfur dioxide,
RI and AQ - indexes facilitate air quality measurements,
PM2,5/PM10 – particulates, position, altitude, time




Application

measurement and evaluation of air pollutants and air quality indexes

identification of sources of low stack pollution

environmental control in rescue operations

 

Operating mode

VLOS – operation within Visual Line Of Sight

BVLOS – autonomous operation

PB – mounted on the UAV's casing

HG – suspended under the UAV

Communication

Range of data transmission to operator's PC through a local link: up to 1600 m

GSM(GPRS) data transmission to a cloud server- optional

 

Geographical psitioning

GPS, Glonass, Galileo

accuracy +/-2,5 m

reciever gain -167 dBc

Sturdy design

ready to work in harsh environment

resistant to dust and moisture

 

Measurements

measurements in forced mode

the RI and AQ indexes facilitate air quality measurements and location of pollution sources in an urbanized area.
Technical Parameters



MEASURED SUBSTANCE

MEASUREMENT UNIT

MEASUREMENT RANGE

RESOLUTION

ACCURACY +/-

MEASUREMENT METHOD

Carbon monoxide (CO)


[ppm]

0–1000

0,1 [ppm]

1 %

ECH

Sulfur dioxide (SO2)


[ppm]

0 – 20

0,01 [ppm]

5 %

ECH


RI – Respiratory Irritants index

[ppm]

0 - 20


0,01 [ppm]

5 %

ECH

AQ – general Air Quality index

[ppm]

0 - 100


0,01 [ppm]

5 %

ECH

Particulate Matter PM10

[μg/m3]

0 – 1000

1 μg/m3

15 %

LSC (max 999 μg/m3)

Particulate Matter PM2.5

[μg/m3]

0 – 1000

1 μg/m3

15 %

LSC (max 999 μg/m3)

Particulate Matter PM1


(optional)

[μg/m3]

0 – 1000

1 μg/m3

15 %

LSC (max 999 μg/m3)
Options for individual configuration of ATMON FL with any measured substances



ATMON-FL Air pollution analyzer (without media measurement modules)
ATM-FL-C2H6O C2H6O ethanol metering module: 0-500 ppm resolution 300 ppb
ATM-FL-Cl2 Chlorine measurement module Cl2: 0-5 ppm resolution 20 ppb
ATM-FL-CO Carbon monoxide measurement module CO: 0-1000 ppm resolution <100 ppb
ATM-FL-H2S Hydrogen sulfide measurement module H2S: 0-10 ppm resolution 10 ppb
ATM-FL-HCHO HCHO formaldehyde measurement module: 0-5 ppm resolution 10 ppb
ATM-FL-NO2 Nitrogen dioxide measurement module NO2: 0-5 ppm resolution 20 ppb
ATM-FL-O3 O3 ozone measurement module: 0-5 ppm resolution 20 ppb
ATM-FL-PM PM10: / PM2.5 dust measurement module: 0-999ug / m3 resolution 15ug / m3
ATM-FL-SO2 SO2 sulfur dioxide measurement module: 0-20 ppm resolution 50 ppb
ATM-FL-RI irritating substances in the respiratory tract
ATM-FL-AQ indicator of general air quality
ATM-FL-LZO Measurement module of volatile organic compounds VOC: 0-50 ppm dry +/- 0.05 ppm
POWER SUPPLY

Lithium-Polymer battery, 1S

FULL CHARGING TIME

~1h

SAMPLE COLLECTION

Forced, electric

REACTION TIME

< 30 s

ATMON BATTERY LIFE H520 UAV + ATMON FLIGHT TIME

> 5 h on single charge
~ 20 min

WORK
ENVIRONMENT
HUMIDITY
TEMPERATURE
PRESSURE

20% – 95% RH




-20°C - + 50°C




800 mbar – 1150 mbar

DIMENSIONS

Ø of enclosure max 125 mm H of supporting core max 100 mm

WEIGHT

< 300 g

AERODYNAMIC ENCLOSURE

HIPS – high impact polystyrene
Commercial aerial solution

The H520 is a hexacopter that has been developed for commercial use. The sUAS is the perfect solution for long flight times and a proven and robust technology in an all-in-one package. The H520 is built for inspection, law enforcement, security, construction, surveying, and mapping applications in addition to offering cinematic imaging payload systems.

Built for industrial use and ambitious professionals

The H520 is designed with the inspection industry in mind with six-rotor systems that allow for stable, precise flight, long focal-length lenses that allow the sUAS to fly at greater distance from an object and data storage that may be shared instantly from the ST16S Ground Station or delivered directly in 4K/2K/HD video or 20Mp still images.
Reliable, stable and precise

Even in high-wind environments, the Yuneec H520 sUAS system is able to hold position, allowing the solution to fly even when a manned inspection would be deemed unsafe. Exclusive flight speed control offers slowest speed above stall flight for maximum precision in challenging environments.
Hot-swap payload options
All of our E-Series cameras and the CGOET are hot swap-capable on our sUAS platforms, allowing for significant time-savings through not requiring a power-down/restart of the UAS system. This also allows for consistency of data-storage, rather than using multiple storage devices and locations. Whether it's thermal imaging, long focal length, or wide focal-length data capture, memory cards may be swapped from device to device.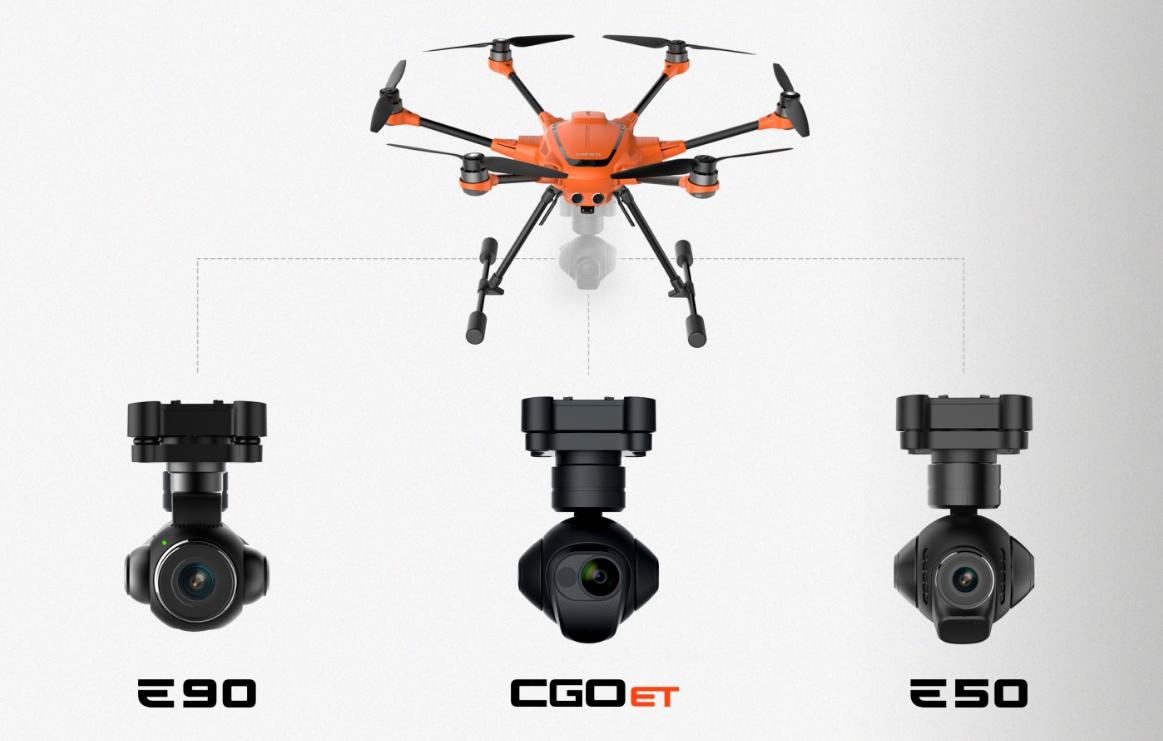 ST16S all-in-one controller

The ST16S Ground Station is an all-inclusive transmitter and receiver that gives you full control over the H520 during flight, allowing users to capture photos and video with great ease. With a large 7-inch integrated screen, the Android-based ST16S controller displays real-time footage of your flight, eliminating the need for an external device. You can also use the ST16S as a mission planner. Plan your flight using the touch screen, and execute your mission with just a single press of a button.
Your benefits at a glance
Designed for professional, commercial and governmental requirements

6 rotors for high safety and redundancy as well as high stability and precision even while experiencing wind and turbulence

Take-off weight with all available camera systems (E90/E50/CGOET) below 2 kg

Reliable position determination by evaluating GPS, Glonass and Galileo satellites

High-precision, low-interference compass

Good visibility due to bright orange paint

Video downlink encryption according to the WPA2 standard with a dynamic password

No data transfer to an external server

Software is based on solid PX4 code

Intelligent sonar collision avoidance for safe and stress-free flying

Energy efficient and quiet with a flight time of up to 28 minutes with E50 / 25 minutes with CGOET/E90

Numerous, also individual, service and maintenance packages available

ST16S with an integrated 7" touch display, voice output and multilingual comprehensive DataPilot™ software

HDMI signal directly from the ST16S to output the drone's live image onto larger monitors

Mission planning on the computer or on the ST16S, offline maps available, creation of own maps possible

Waypoint and survey missions, including cross-wise flights, suitable for construction surveying, perimeter security, accident reconstruction, 3D scans, orthomaps, area inspections and S&R tasks

2D/3D mapping

DataPilot™ automatically generates the flight route when an area to be scanned is specified, including a possible battery change.

Definition of resolution over inches per pixel or altitude

Missions can be saved for any repetition of the same flight route (e.g., for tracking shots)

SDK available: third-party software and adaptation to your own application are possible.

Capable of being tethered (sold separately)

Lower space requirement and short set-up time

Retractable landing gear and 360 degree endlessly rotatable camera gimbal for precise alignment or a permanent all-round view, even during tethering

Hot-swappable camera/gimbal systems
YUNH520EU

H520 with 2 batteries and ST16S
| | |
| --- | --- |
| Aircraft |   |
| DIMENSIONS | 520 x 455 x 295 mm |
| FLIGHT TIME | CGOET: 25 Min / E90: 25 Min / E50: 28 Min |
| WEIGHT (WITH BATTERY, WITHOUT GIMBAL) | 1633 g |
| BATTERY | 4S 5250mAh 15,2V LiPo |
| CHARGER | SC4000-4H |
| REMOTE CONTROL | ST16S |
| MAXIMUM FLYING ALTITUDE | 500 m |
| MAXIMUM ROTATIONAL SPEED | 120°/s |
| MAXIMUM ROTATION ANGLE | 35° |
| MAXIMUM RATE OF ASCENT | 4 m/s |
| MAXIMUM RATE OF DESCENT | 2,5 m/s |
|   |   |
| | |
| --- | --- |
| Remote |   |
| OPERATING SYSTEM | Android™ |
| NUMBER OF CHANNELS | 16 |
| TRANSMISSION DISTANCE RANGE (OPTIMUM CONDITIONS) | Up to 1.6km/1 mile |
| VIDEO LINK RESOLUTION | HD 720p |
| VIDEO LINK FREQUENCY BAND | 5.8 GHz WiFi |
| VIDEO TRANSMISSION | FCC Compliance: Up to 1.6km/1 mile / CE Compliance: Up to 1.6km/1 mile |
| FLIGHT SYSTEM TELEMETRY DATA ON SCREEN | Yes |
| LCD SCREEN SIZE | 7" |
| TACTILE AND AUDIO FEEDBACK | Yes |
| BUILT-IN LIPO BATTERY (VOLTAGE/CAPACITY) | 3.6V 8700mAh 31.32Wh Li-ion |
| CONNECTION TYPES | 1x HDMI, 2x USB, 1x head phone |
E90
1" Sensor Camera
Ultra High Definition & Digital Zoom

The E90 camera is a wide-angle, high resolution, gimbal stabilized imaging system perfectly suited for use in applications that require high quality photo and video. The E90 utilizes a 20 MP 1-inch sensor and the latest H2 high speed image processing chip. The digital zoom feature allows the user to digitally zoom in and out with two finger gesture. Zoom factor is up to 8x, whereas the view on the ST16S is lossless up to 4x.

 
 

Hot-swap capable

The E90 is hot-swap capable which minimizes down time and improves productivity. The E90 camera-gimbal combination may be swapped for an E50 or CGOET camera-gimbal combo without power cycling the airframe. The quick release and lock mechanism of the gimbal and airframe mounting system enables fast and efficient exchange of cameras.
1 Inch Sensor

The E90 utilizes a high aperture 1 inch CMOS imager that is capable of capturing still images with 20 megapixel resolution. The sensor provides exceptional dynamic range and improved signal-to-noise ratio. The E90's 23 mm lens equivalent provides wide angle view via an all glass lens system with low distortion and minimal lens dispersion. The E90 comes with a lens adapter ring threaded to fit 40.5mm standard ND filters for flexibility and convenience.

 
 

360° rotation

A 3-axis stabilized gimbal with high precision provides a steady platform for the E90 camera. With a precision of +/- 0.02°, E90 shots are rock-solid whether loitering or flying full throttle. The E90 gimbal is capable of unlimited 360 yaw axis rotation. This unique feature, when combined with the H520 retractable landing gear, provides the operator with full 360 unobstructed camera view and the ability to continuously pan the camera without yawing the airframe.
Perfect team

The H520 is the perfect partner for the E90. The hexacopter is appropriate wherever long flight times and tried-and-tested technology are required in an all-in-one package. The six rotor safety as well as the waypoint technology and a lot of other features make the H520 and the E90 camera ideal for both, industrial and private applications.

 
 

Highly automated, detailed imagery

User will appreciate the dramatic aerial shots afforded by the E90's high frame rate and accurate color. In addition, the E90 is ideal for commercial applications such as accident recreation, search and rescue operations, and for 3D mapping/modeling.
At a glance

20 megapixel resolution

1" CMOS sensor

4K resolution at 60 frames per second

Digital live image transmission with 720p HD

Digital zoom up to 8x

Endless 360° rotation of the gimbal for perfect image stabilization

Full control of the camera via ST16S transmitter

Compatible with H520 hexacopter

 
Example of use

Click to download original photos.






Technical specifications
YUNE90EU
| Camera |   |
| --- | --- |
| WEIGHT | 350 g |
| FOCAL LENGTH | 23 mm |
| COLOR SENSITIVITY | RGB |
| COMPRESSION BIT RATE | 100Mbps |
| COMPRESSION TYPE | AVC/HEVC |
| DIGITAL NOISE REDUCTION | 2D Filter |
| EFFECTIVE PIXELS | 20 Megapixels |
| ELEMENTS | 7G2P |
| VIEW FIELD | DFOV 91 |
| FRAME RATE | 24/25/30/48/50/60/120 |
| FSTOP RANGE | F2.8 |
| GIMBAL AXES | 3 |
| ANGULAR VIBRATION RANGE | ± 0.02° |
| MAXIMUM CONTROL RANGE | TILT: -90° - 15° / PAN: 360° limitless |
| MAXIMUM CONTROL SPEED | TILT: 30°/s / PAN: 120°/s |
| ISO RANGE | 100 - 6400 |
| VIDEO RESOLUTION | 4K 60FPS |
| MTF | 104lp/mm / CENTER: 0.6 / CORNER: 0.4 |
| SENSOR SIZE | 1 Inch CMOS |
| SHUTTER SPEED | 1/8000s - 4s |
| SHUTTER TYPE | rolling |
| SD CARD | Class 10 u3 min. 90 Mbit/s |
| SNR | ISO100, SNR 36db |
| STORAGE TEMPERATURE | -10°C - 50°C |
| OPERATING TEMPERATURE | -10°C - 40°C |
| COMPATIBLE COPTER | H520 |