Powerbank OmniCharge OMNI POWER STATION 5x
OMNIPOWER STATION 5x
POWER ALL YOUR PORTABLE DEVICES
The Omni Power Station is designed for todays forward thinking organizations that understand the need to provide portable power access to their teams so they can power anything, anywhere; on or off site without being tethered to fixed
infrastructure constraints. Our power solution brings the latest in charging technology to provide users a portable yet versatile power source to complete their mission.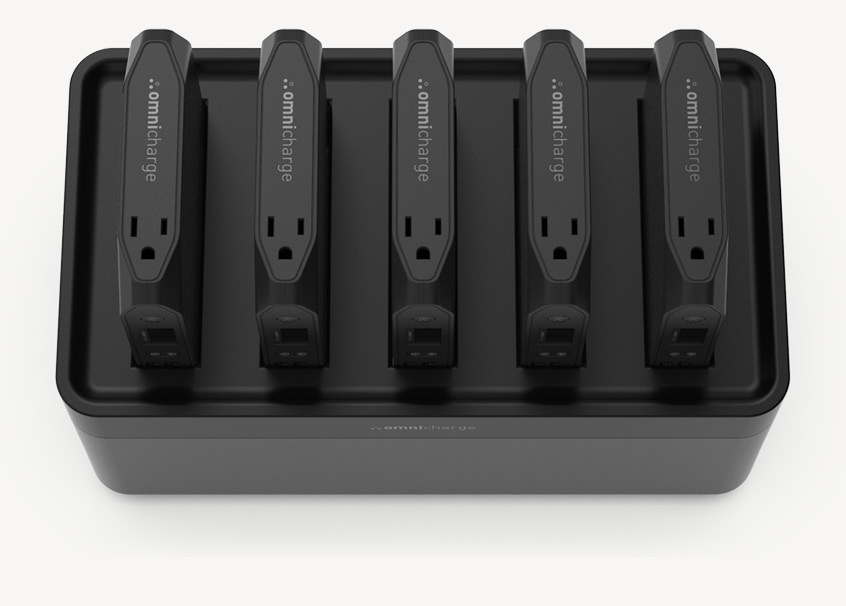 INFRASTRUCTURAL COST SAVINGS

Charge your USB-C laptop straight from the Omni 13+'s USB-C port. Capable of outputting up to 60W, you can power your phones, laptops, tablets and more.

 

WORKSPACE FLEXIBILITY

With a single wall outlet the power station can be installed in any space making it easy for people to work wherever they want.

 

SELF SERVICE

Our mobile app and kiosk tablet allow your users to activate and return chargers providing a flexible self service solution.

 
INCREASED PRODUCTIVITY

Rather than being tethered to a wall outlet, users can check out a charger at any time and continue with their on-the-go lifestyle.

 

SMART MANAGEMENT

The Omnicharge smart center provides administrators with insight into user activity, station health, and lets you manage and control your individual stations.
OMNIPOWER STATION 5x
POWER ALL YOUR PORTABLE DEVICES

The Omni Power Station is designed for todays forward thinking organizations that understand the need to provide portable power access to their teams so they can power anything, anywhere; on or off site without being tethered to fixed
infrastructure constraints. Our power solution brings the latest in charging technology to provide users a portable yet versatile power source to complete their mission.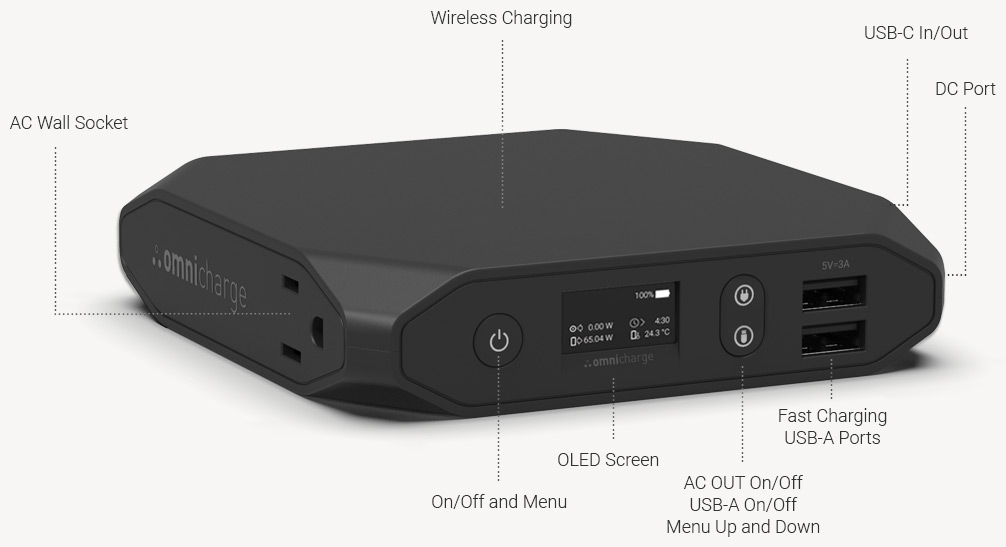 With its high powered AC output, laptop grade USB-C port and wireless charging, the Omni 20 is capable of powering a vast array of devices. For more information about the capabilities of the Omni 20, check out the product page here.
SOLVING YOUR POWER PROBLEMS
 

COMERCIAL BUILDINGS

In the modern day workspace employees need the freedom to work in open environments, and not be tethered to their desk due to traditional power constraints. With the Omnicharge Powerstation your employees are free to move around and work wherever they want.

 
 

UNIVERSITIES




In this day and age where everyone uses laptops and phones, universities are increasingly having trouble keeping up with the electrical demand. Retrofitting hundreds of outlets in a lecture hall can be excessively expensive, especially in old historical universities. The Omnicharge Powerstation, provides easy, portable power, that can power an entire lecture hall from just a few power outlets.

 
 

COWORKING SPACES

In a busy co-working space power is a limited commodity. Desks near a power outlet are always the first to go. With the Omnicharge Power Station your tenants are free to move around and enjoy your creative workspace to its fullest extent, all without running out of power.

 
OMNI CLOUD SOFTWARE
The Omnicharge Power Station is built on a powerful software platform allowing you to seamlessly manage and control all your Powerstations from the same dashboard.
SELF SERVICE SOLUTION
The Omnicharge Power Station offers several methods of authentication. You can choose between having an unlocked station where anyone is free to take chargers without limitation, or you can choose to authenticate your users with our kiosk tablet or smartphone app.
 

 

Checkout with App

The Omnicharge power station app offers a self-service solution for your users to rent chargers. Your users just need to download the app, fill in their details, and use it to check out chargers. You also have the option to charge your users late fees to secure charger returns.

 

Checkout with Kiosk tablet

The Omnicharge Kiosk tablet provides an all-in-one self-service solution for your power station. Your users just need to enter their email into the tablet, and input a one-time password sent via email.

 

Track station activity

Manage all your rentals through the Omnicharge smart center. Here you can check on station activity, manage station functionality, track overdue chargers and much more.
SMART CENTER
The Omnicharge Smart center provides a comprehensive solution with a unified dashboard allowing its customers to manage and control all their power stations. Customers can individually choose how their stations authenticate users and customize the software mode of their Omnicharges. Offering detailed statistics you can see everything you need to optimize your stations and improve user activity.
 

User Activations

Track how users are interacting with your power stations. Get information on how many new users you have each month, and how active your existing users are.

 

Station Usage

Track your individual stations and see their activity level over the course of a month.
TECHNICAL SPECIFICATION
All batteries will recharge in 3 hours


Standard power outlet and Wi-Fi connection


5 Omnicharge portable chargers


11 amps (when batteries are fully discharged)


Wi-Fi and cellular enabled:
---
TECHNICAL SPECIFICATION
Output: 120V, 60Hz, modified sine wave
(230V, 50Hz, modified sine wave European version)


HVDC Output: 150V (300V for European Version)


Continuous Output Power: 100W


Peak Output Power: 70W (3s)


Maximum Output Surge Power: 100W (0.1s)
Port1: 5V / 3A


Port2:  Qualcomm Quick Charge 3.0; 5V/3A == 9V/2A == 12V/1.5A
Backwards compatible with QC2.0/1.0



Input: 4.5V – 36V, up to 3A (2W – 45W)


Output: Adjustable 1V – 24V with 0.1 Accuracy, up to 3.5A (70W max)
Chainable: No


Weight: 1.4 lbs (630 g)


Dimension: 5.0″ x 4.8″ x 1.1″ (12.7 x 12.2 x 2.7 cm)


Warranty: Limited One (1) Year


Certifications: CE, FCC, ROHS


Operating temp: Charging 5C° to 113F (10° to 45° C)
Discharge -4° to 140° (-20° to 60° C) 
Cell Type: 1865C Li-ion battery by Panasonic/LG chem/Samsung


Capacity: 6 cells, 73Wh (20400mAh at 3.6V)


Lifecycles: 500 times (depleted to 70% of original capacity)


Shelf-life: One (1) year after full charge
---
OLED SCREEN
1. Icon display (see below)


2. Baterry remaining capacity


3. Battery Lever (-/+ 1%)


4. Battery Temperature


5. Battery Power Output (watt)

6. Battery Power: Input (watt)


7.Charge time remaining
Calculated based on optimal level of power input for your device and Omnicharge's battery level
Status Icons (Active when displayed)

Adjustable DC output



AC output



HVDC output



Charging input

 

 

 

 


Charging input


Optimal charging


Solar charging


Silent mode


 

 

 

 


Low temperature protection


Overpower protection

 
Overheating protection


Overvoltage protection

POWER SAFETY PROTECTION SYSTEM
The powerful intelligent charging protection system not only simplifies the charging process, but also protects the battery life of your devices and shelf life of Omnicharge.
Device Protection:

1. Temperature Protection
2. Short Circuit Protection

 

3. Automatic Power-Off
4. Reset Program Algorithm

 

5. Self-Balancing Algorithm
6. Overcharge Protection

Output Protection:

1. AC/USB Outlet Protection

 

2. Power Overflow Protection

 

3. Voltage Underflow/ Overflow Protection

Input Protection:

1. Charging Overflow Protection

 

2. Charging Circuit Protection