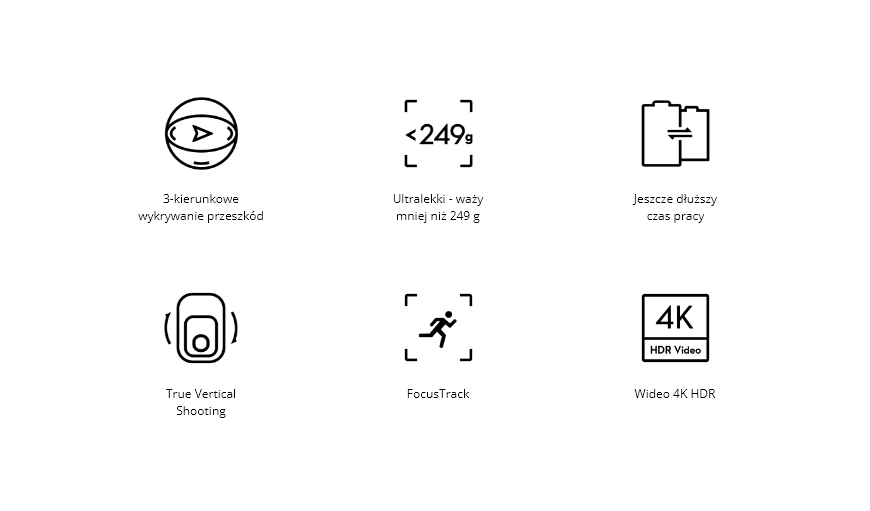 DJI Mini 3 Pro
A powerful drone in a mini size. The DJI Mini 3 Pro features a foldable design and is extremely lightweight, weighing less than 249g. It is equipped with a 1/1.3-inch sensor, thanks to which it can record stunning 4K videos and take 48 MP photos. Try out the available modes and create unique footage! The DJI Mini 3 Pro also offers advanced safety features such as 3-way obstacle detection, making it the safest drone in the series today. It's the perfect choice even for beginner pilots!
New and improved design
Enjoy even more fun in the sky. The DJI Mini 3 Pro features an all-new, improved design with larger propellers and an eye-catching aerodynamic shape. It is also equipped with an improved gimbal that rotates 90°, allowing you to record vertically without losing quality. The drone also offers an advanced obstacle detection system. Check out what else it will surprise you with!
Take him on another trip
The DJI Mini 3 Pro is the perfect option for travelers and people who create on the move. It weighs less than 249g, so you don't have to register it in most countries and regions. That's one less hassle when traveling abroad! The drone also features a foldable design that makes it much easier to store and transport. Take it on your next trip and don't let the opportunity to take the perfect shot pass you by!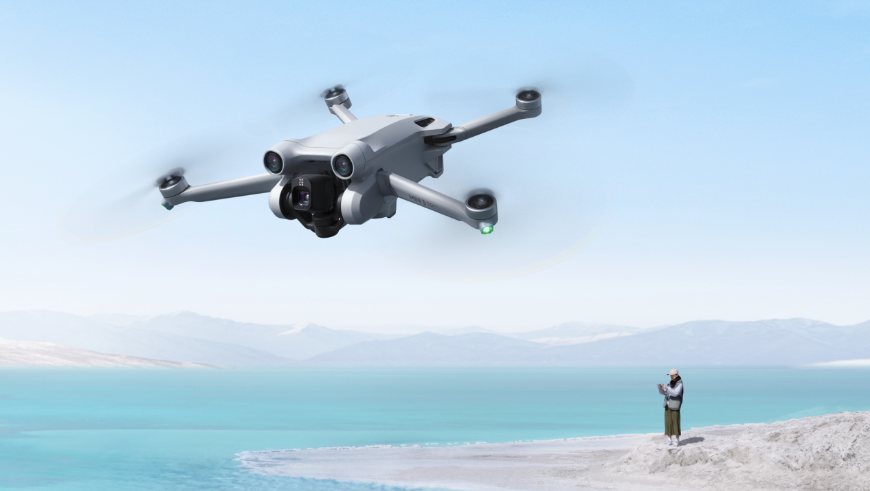 Fly longer and further
Now you are free to explore the skies. The flight time of the DJI Mini 3 Pro is up to 34 minutes. That's long enough to find a spot worth capturing and compose the perfect shot! The drone also has an enhanced DJI O3 transmission system that allows you to transmit 1080p/30FPS video up to 8 km away. Go on your next skyward expedition and discover the wonders that await you in your area!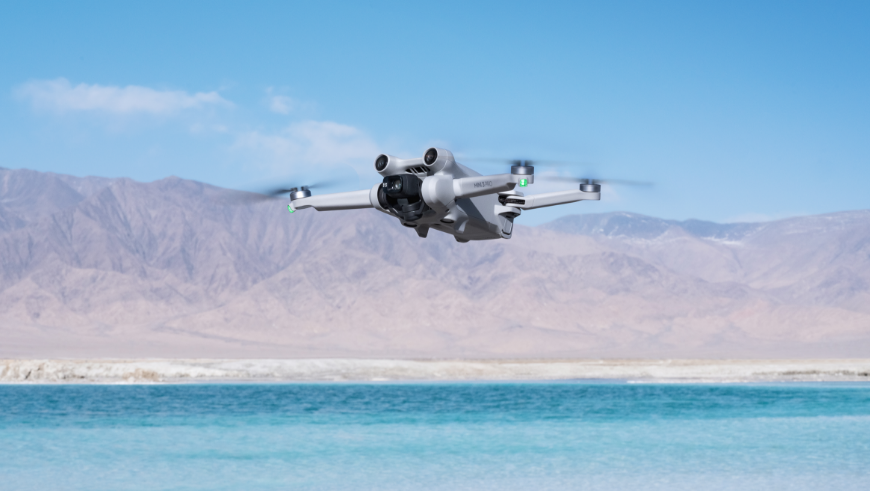 Stunning image quality
Create breathtaking aerial footage. The DJI Mini 3 Pro is equipped with a 1/1.3-inch CMOS sensor. With it, you will record spectacular 4K/60FPS videos and take 48MP RAW photos. The drone also supports HDR and Dual Native ISO technology. The higher dynamic range, larger 2.4 μm pixels and f/1.7 aperture will allow you to capture richly detailed and stunningly clear images even in low light. In addition, D-Cinelike Color mode gives you more options when editing your footage. Up to 4x digital zoom is also available.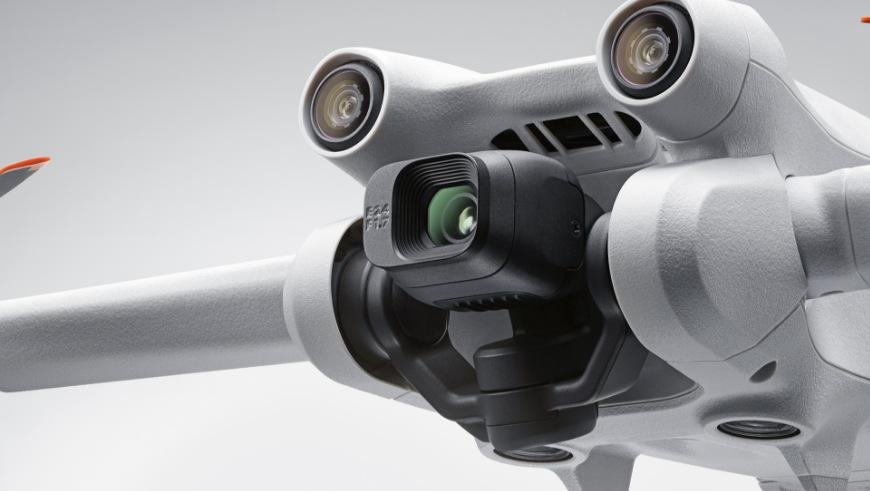 A range of creative features
The DJI Mini 3 Pro offers a ton of smart features to make your footage unique. Conveniently record vertically in True Vertical Shooting mode and create 1080p/120FPS slow-motion videos, dynamic Timelapse shots and richly detailed panoramas. There are also FocusTrack tracking modes - ActiveTrack 4.0, Spotlight 2.0 and Point of Interest 3.0. MasterShots makes it easy to record professional footage and QuickTransfer lets you download your footage over Wi-Fi at up to 30 Mbps. So you can instantly share your video on social media!
Flight safety
The drone is extremely easy to use and ensures safe flight. This means that it will also be ideal for beginner users. It offers 3-way obstacle detection - it is equipped with front, rear, and bottom dual vision sensors. It also supports Advanced Pilot Assistance Systems (APAS 4.0), which detects objects in its flight path in real time. This allows the DJI Mini 3 Pro to effectively avoid obstacles even in extremely complex environments.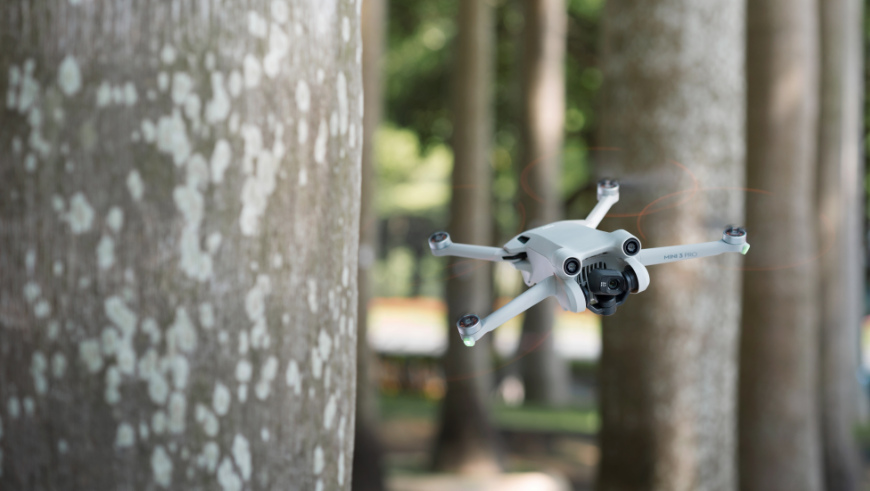 The control equipment you need
Use the proven DJI RC-N1 control unit or try the new one, the DJI RC. Both devices provide exceptionally smooth flight and responsive control. They also offer ultra-low latency at around 120 ms and bitrates up to 18 Mbps. The new DJI RC control unit is also equipped with an easy-to-read display and has the DJI Fly app installed by default. So no need to waste your smartphone's power - leave it in your pocket and enjoy the flight!

With accessories you can do more
Get even more out of your DJI Mini 3 Pro. Just use the accessories available for purchase! The bi-directional charging hub allows you to store and sequentially charge up to 3 batteries. You can also use it to charge your phone or control camera. With the ND filter kit, you'll be prepared for any lighting conditions, and the wide angle lens will increase your field of view from 75° to 100°.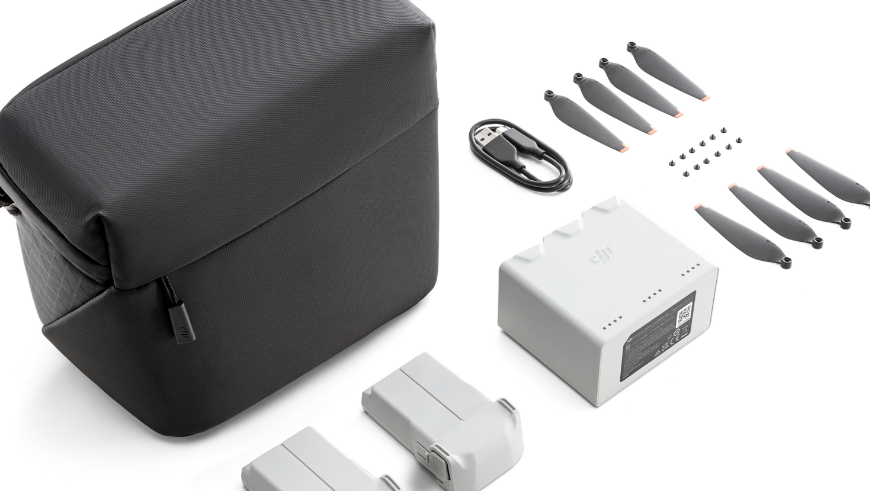 Kit contains:
DJI Mini 3 Pro
DJI RC Remote Control
DJI Mini 3 Pro Smart Battery
Spare Propellers (pair)o
Gimbal Cover**
PD Cable (USB-C-USB-C)
Śrubokręt
Śrubki x 6
Specyfikacja
Aircraft
Takeoff Weight
 <249 g
Dimensions
Folded: 145×90×62 mm;Unfolded: 171×245×62 mm; Unfolded (with propellers): 251×362×70 mm
Diagonal Length
247 mm
Max Ascent Speed
5 m/s (S mode); 3 m/s (N mode); 2 m/s (C mode)
Max Descent Speed
5 m/s (S mode); 3 m/s (N mode); 1.5 m/s (C mode)
Max Speed (at sea level, no wind)
16 m/s (S mode); 10 m/s (N mode); 6 m/s (C mode)
Max Service Ceiling Above Sea Level
4000 m
Max Flight Time
34 mins (with Intelligent Flight Battery and measured while flying at 21.6 kph in windless conditions)
Max Hovering Time
30 mins (with Intelligent Flight Battery, no wind);40 mins (with Intelligent Flight Battery Plus, no wind)
Max Flight Distance
18 km (with Intelligent Flight Battery and measured while flying at 43.2 kph in windless conditions);25 km (with Intelligent Flight Battery Plus and measured while flying at 43.2 kph in windless conditions)
Max Wind Speed Resistance
10.7 m/s (Level 5)
Max Tilt Angle
Forward: 40°, Backward: 35° (S Mode);25° (N Mode);25° (C Mode)
Maks. prędkość kątowa (domyślnie)*
130°/s (tryb S) *Możliwość regulacji w zakresie 20°/s-250°/s za pomocą aplikacji.; 75°/s (tryb N) *Możliwość regulacji w zakresie 20°/s-120°/s za pomocą aplikacji.; 30°/s (tryb C); *Możliwość regulacji 20°/s-60°/s za pomocą aplikacji.
Operating Temperature
-10°C-40°C
Global Navigation Satellite System(GNSS)
GPS + Galileo + BeiDou
Operation Frequency
2,400-2,4835 GHz; 5,725-5,850 GHz; [3]
Transmitter Power (EIRP)
2,4 GHz:
Hovering Accuracy Range

Vertical
Vertical: ±0.1 m (with video positioning), ±0.5 m (with GNNS positioning); Horizontal: ±0.3 m (with video positioning), ±0.5 m (with high precision positioning system);
Sensing System
| | |
| --- | --- |
| Forward | Precision Measurement Range: 0.39-25 m; >Effective Sensing Speed: Flight speed |
| Backward | Precision Measurement Range: 0.36-23.4 m; Effective Sensing Speed |
| Downward | ToF Effective Measurement Height:  0.1-8 m;Precise Hovering Range: 0.5-12 m Vision Sensor Hovering Range: 0.5-30 m |
| Auxiliary Bottom Light | No |
| Operating Environment | Diffuse reflective surface with a clear pattern and reflectivity >20% (such as cement pavement); Adequate lighting (lux >15, e.g. normal exposure environment with indoor fluorescent lamp) |
Gimbal
| | |
| --- | --- |
| Mechanical Range | Tilt: -135°-80°; Roll: -135°-45°; Pan: -30°-30°; |
| Controllable Range | Tilt: -90°-60°; Roll: -90° lub 0°; |
| Stabilization | 3-osiowy gimbal mechaniczny (osie tilt, roll i pan) |
| Max Control Speed (tilt) | 100°/s |
| Angular Vibration Range | ±0,01° |
Camera
Sensor
1/1.3-inch CMOS;Effective Pixels: 48 MP
Lens

FOV:
82.1°:Format Equivalent: 24 mm;Aperture: f/1.7;Focus Range: 1 m to ∞
ISO Range
Video: ;100-6400 (Auto);100-6400 (Manual); Photo: 100-6400 (Auto) 100-6400 (Manual)
Shutter Speed
Electronic Shutter: 2-1/8000 s
Max Image Size
4:3: 8064×6048 (48 MP) 4032×3024 (12 MP);;16:9: 4032×2268 (12 MP)
Still Photography Modes
Single Shot;;Interval: ;JPEG: 2/3/5/7/10/15/20/30/60 s;JPEG + RAW: 2/3/5/7/10/15/20/30/60 s;;Auto Exposure Bracketing (AEB): 3/5/7 bracketed frames at 2/3 EV Bias;;Panorama: Sphere, 180°, Wide-angle, and Vertical
Photo Format
JJPEG/DNG (RAW)
Video Resolution
4K: 3840 × 2160 @ 24 / 25 / 30 / 48 / 50 / 60 FPS; 2.7K: 2720 × 1530 @ 24 / 25 / 30 / 48 / 50 / 60 FPS; FHD: 1920 × 1080 @ 24 / 25 / 30 / 48 / 50 / 60 FPS; Slow Motion: 1920 × 1080 @ 120 FPS;
Tryb HDR
Photo: support HDR in Single Shot mode; Video: support HDR when recording at 24 / 25 / 30 FPS.
Video Format
MP4 / MOV (H.264 / H.265)
Max Video Bitrate
150 Mbps
Zoom Range

4K: 2x; 2.7K: 3x; FHD: 4x;
QuickShot Modes
Dronie, Helix, Rocket, Circle, Boomerang, Asteroid
Color Profiles
Normal, D-Cinelike
Video transmission
| | |
| --- | --- |
| Obsługiwane systemy plików | FAT32 (≤32 GB), exFAT (>32 GB) |
| Video Transmission System | DJI O3 |
| Live View Quality | 1080p/30 FPS |
| Operation Frequency | 2,400-2,4835 GHz; 5,725-5,850 GHz [3] |
| Moc transmitera (EIRP) | 2,4 GHz: |
| Pasmo przenoszenia | 1,4 MHz / 3 MHz / 10 MHz / 20 MHz / 40 MHz |
| Latency (depending on environmental conditions and mobile device) | Aircraft + Remote Controller: Approx. 120 ms |
| Max Video Bitrate |  Aircraft + Remote Controller: 18 Mbps |
| Max Download Bitrate | DJI O3: Remote Controller and DJI RC: 5,5 MB/s; Wi-Fi 5: maks. 30 MB/s; |
| Signal Transmission Ranges (FCC) | Strong Interference (urban landscape): Approx. 1-3 km; Medium Interference (suburban landscape): Approx. 6 km; >Low Interference (suburb/seaside): Approx. 12 km |
| Antennas | 4 antennas, 2T4R |
| Audio Transmission | No |
Wi-Fi
| | |
| --- | --- |
| Protocol | 802.11 a/b/g/n/ac |
| Transmitter Power (EIRP) | 2,400-2,4835 GHz: |
Bluetooth
| | |
| --- | --- |
| Protocol | Bluetooth 5.2 |
| Transmitter Power (EIRP) | 2.400-2.4835 GHz: <10 dBm |
Battery
| | |
| --- | --- |
| Pojemność | 2453 mAh |
| Waga | Ok. 80,5 g |
| Napięcie | 7,38 V |
| Maks. napięcie ładowania | 8,5 V |
| Typ akumulatora | Li-ion |
| Energia | 18,1 Wh |
| Maks. moc ładowania | 37 W |
| Czas ładowania | Ok. 64 minut (za pomocą ładowarki DJI 30W USB-C Charger) |
| Zakres temperatur ładowania | 5-40°C (41-104°F) |
| Zalecana ładowarka | DJI 30W USB-C Charger lub inne ładowarki USB obsługujące PD |
Memory cards
| | |
| --- | --- |
| Supported Memory Cards | UHS-I Speed Class 3 or above is required. A list of recommended microSD cards can be found below. |
| Recommended microSD Cards | SanDisk Extreme 64GB V30 A1 microSDXC, SanDisk Extreme 128GB V30 A2 microSDXC, SanDisk Extreme 256GB V30 A2 microSDXC, SanDisk Extreme 512GB V30 A2 microSDXC, SanDisk Extreme Pro 64GB V30 A2 microSDXC, SanDisk Extreme Pro 256GB V30 A2 microSDXC, SanDisk Extreme Pro 400GB V30 A2 microSDXC, SanDisk High Endurance 64GB V30 microSDXC, SanDisk High Endurance 256GB V30 microSDXC, SanDisk Max Endurance 32GB V30 microSDHC, SanDisk Max Endurance 128GB V30 microSDXC, SanDisk Max Endurance 256GB V30 microSDXC, Kingston Canvas Go!Plus 64GB V30 A2 microSDXC, Kingston Canvas Go!Plus 256GB V30 A2 microSDXC, Lexar High Endurance 64GB V30 microSDXC, Lexar High Endurance 128GB V30 microSDXC, Lexar 667x 64GB V30 A1 microSDXC, Lexar 633x 256GB V30 A1 microSDXC, Lexar 1066x 64GB V30 A2 microSDXC, Lexar 1066x 128GB V30 A2 microSDXC, Lexar 1066x 256GB V30 A2 microSDXC, Samsung Pro Plus 128GB V30 A2 microSDXC, Samsung EVO Plus 512GB microSDXC |
DJI RC
| | |
| --- | --- |
| Model | RM330 |
| Video transmission system | DJI O3 |
| Transmitter Power (EIRP) | 2,400-2,4835 GHz: |
| Storage Capacity | DJI RC's storage capacity can be increased by using a microSD card. Users can store images and videos on the card and export them to a computer or other devices. |
| Video Output Port | No |
| Max Battery Life | approx. 4 h |
| Operating Temperature | -10-40°C (14-104°F) |
| Supported microSD Cards | UHS-I Speed Class 3 or above is required. A list of recommended microSD cards can be found below. |
| Recommended microSD Cards | SanDisk Extreme 64GB V30 A1 microSDXC, SanDisk Extreme 128GB V30 A2 microSDXC, SanDisk Extreme 256GB V30 A2 microSDXC, SanDisk Extreme 512GB V30 A2 microSDXC, SanDisk Extreme Pro 64GB V30 A2 microSDXC, SanDisk Extreme Pro 256GB V30 A2 microSDXC, SanDisk Extreme Pro 400GB V30 A2 microSDXC, SanDisk High Endurance 64GB V30 microSDXC, SanDisk High Endurance 256GB V30 microSDXC, Kingston Canvas Go!Plus 64GB V30 A2 microSDXC, Kingston Canvas Go!Plus 256GB V30 A2 microSDXC, Lexar High Endurance 64GB V30 microSDXC, Lexar High Endurance 128GB V30 microSDXC, Lexar 633x 256GB V30 A1 microSDXC, Lexar 1066x 64GB V30 A2 microSDXC, Samsung EVO Plus 512GB microSDXC |
| Protocol Wi-Fi | 802.11 a/b/g/n |
| Transmitter Power (EIRP) | 2,400-2,4835 GHz: |
| Protocol Bluetooth | Bluetooth 4.2 |
| Transmitter Power (EIRP) | 2,400-2,4835 GHz: |
Charging Hub
| | |
| --- | --- |
| Compatible DJI Charger | DJI 30W USB-C Charger; or other USB Power Delivery chargers |
| Input | 5 V, 3 A / 9 V, 3 A / 12 V, 3 A |
| Output (USB) | Max Voltage: 5 V, Max Current: 2 A |
| Charging Type | Three batteries being charged in sequence |
App
| | |
| --- | --- |
| Mobile Device App | DJI Fly |
| Required Operating System | iOS v11.0 or later;Android v6.0 or later |
Others
| | |
| --- | --- |
| Footnotes | 1. The standard weight of the aircraft (including the Intelligent Flight Battery, propellers, and a microSD card). Actual product weight may vary due to differences in batch materials and external factors. Registration is not required in some countries and regions. Check local rules and regulations before use. These specifications have been determined through tests conducted with the latest firmware. Firmware updates can enhance performance, so updating to the latest firmware is highly recommended. |
|   | 2. The max flight speed is subject to dynamic local restrictions. Please abide by local laws and regulations when flying. |
|   | 3. Increase in aircraft weight can affect flight propulsion. When the aircraft is using the Intelligent Flight Battery Plus, do not mount additional payloads like propeller guard or third-party accessories to avoid lack of propulsion. |
|   | 4. Due to local policy and regulation restrictions, the 5.8 GHz frequency band is currently banned in certain countries, including but not limited to Japan, Russia, Israel, Ukraine, and Kazakhstan. Please use the 2.4 GHz frequency band when operating in these locations. Always check local rules and regulations before use, as they may change over time. |
|   | 5. Tested in accordance with FCC standards in an environment free from typical interference. The data shown is for reference only and is not a guarantee of actual flight distance. Maximum unilateral communication distance of DJI Mini 3 Pro in countries / regions with different standards: FCC: United States, Australia, Canada, Hong Kong, Taiwan, Chile, Colombia, Puerto Rico and other regions. Max transmission range: 12 km. SRRC: Mainland China. Max. transmission range: 8 km. CE: United Kingdom, Russia, France, Germany, Portugal, Spain, Switzerland, Macau, New Zealand, United Arab Emirates and other regions. Max. transmission range: 8 km. MIC: Japan. Max. transmission range: 8 km. |