Easy product returns
Buy a product and check it in your own time, at home.
You can return the product without providing a reason within 14 days.
Show details
14 days to withdraw from the contract
Your satisfaction is very important to us, therefore you can make a return without providing a reason within 14 days.
No stress

and worry
Thanks to the integration with cheap returns you can purchase without stress and be sure that the return process will be hassle free.
Easy returns

wizard
All returns processed by our shop are managed in a easy-to-use returns wizard which gives you the ability to send a return parcel.
Dron Yuneec Typhoon H Pro z Intel RealSense w zestawie z dwiema kamerami:
- dedykowaną kamerą termowizyjną CGOET
- dedykowaną kamerą CGO3+ 4K

---
Połączenie kamery z dronem tworzy zestaw  Typhoon H Thermal CGOET- jest
to zaawansowana, przenośna platforma termowizji. Jest to perfekcyjne rozwiązanie dla klientów, którzy wymagają obrazowania światła podczerwieni lub podstawowych zastosowań profesjonalnych, komercyjnych i publicznych usług w takich branżach i zastosowaniach jak: rolnictwo, inspekcja dachu, ścigania lub gaszenia pożarów.
Sekcja termiczna
Pole widzenia po przekątnej: 71
°
Pole widzenia w poziomie: 56
°
Czułość: < 50mK
Kamera termowizyjna: układ Mikrobolometryczny wykonany w techonlogi VOX (tleneku wandu)
Rozmiar piksela: 12um
Długość fali podczerwonej LWIR: 8-14um
Częstotliwość wyświetlania klatek: 9 Hz
Format zdjęcia: JPEG, TIFF (14bit raw)
Fortmat wideo: MP4
Balans temperatury: Automatyczna
Zakres temperatury pomiaru: od -10°C do 180°C
Sekcja światła
Sensor: 1/3" 2M
Pole widzenia: 90
°
ISO: 100-12800
Szybkość migawki: 1/30 - 1/8000s
Rozdzielczość wideo: 1920x1080p 30fps
Format zdjęcia: JPEG
Format wideo: MP4
Kluczowe cechy
- Rejestrowanie promieniowania podczerwonego
- Wykrywanie i wyświetlanie temperatury
- System bezpieczeństwa lotu (lot z pięcioma sprawnymi silnikami)
- Łatwość transportu urządzenia
- Tryby: w / pilot i operatora kamery
- Automatyczne wykrywanie przeszkód i unikanie ich (Intel RealSense) - Opcjonalnie
Yuneec Typhoon H Pro

Najnowszy Yuneec jest niezwykle prosty w obsłudze oraz bezpieczny. System real-sense zapewni m.in. wykrywanie przeszkód na przestrzeni przed dronem. Typhoon H wyposażony jest dodatkowo w tryb "fail-safe", pozwalający na bezpieczne lądowania w przypadku awarii jednego z silników. W zestawie z dronem otrzymujemy 16-kanałową aparaturę RC ST16+, wyposażoną w 7 calowy monitor do podglądu obrazu na żywo. Transmisja video jest przekazywana na ziemię w rozdzielczości HD 720P. * - najnowsza wersja Yuneec Typhoon H z aparaturą ST16+ wyposażoną w 3 anteny zapewniające większy zasięg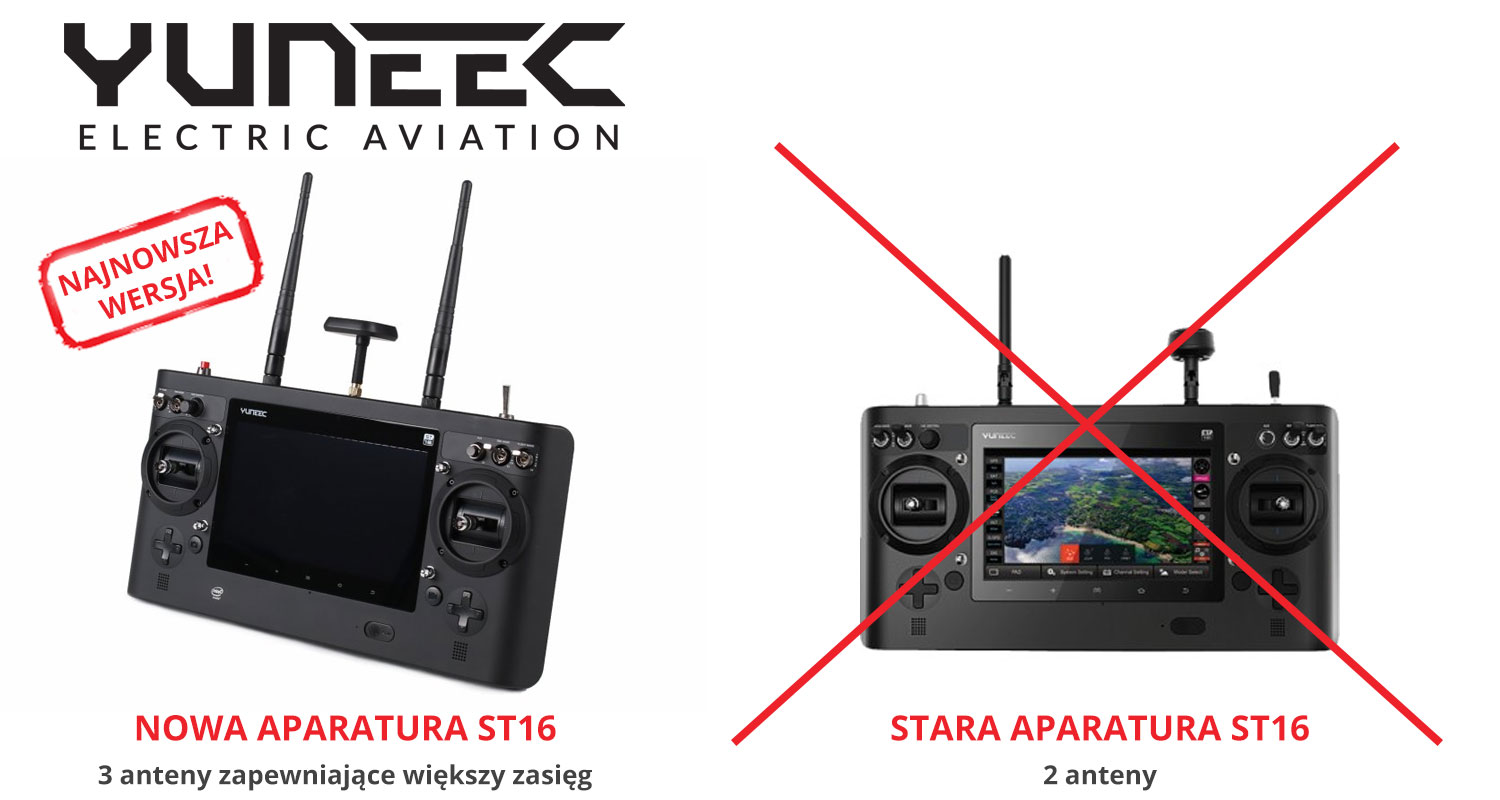 Jak informuje producent, Typhoon H Pro jest dronem nowej generacji, dedykowaną zarówno dla entuzjastów, jak i profesjonalistów. Wersja rozszerzona Typhoon H będzie zawierała system antykolizyjny RealSense™ dzięki współpracy firmy Yuneec z czołowym gigantem elektroniki i rozwiązań innowacyjnych Intel®. System antykolizyjny będzie się składał z kamery podczerwieni, kamery FullHD i projektora światła laserowego. Urządzenia te pozwalają na wykreowanie rzeczywistości widzianej przez człowieka czyli obraz i ruch. Technologia ta pozwoli na intuicyjne reagowanie drona z otoczeniem w sposób naturalny. Wszystko dzięki wykorzystaniu procesorów firmy Intel®.
Zaczerpnij przyszłości

Gotowy do lotu od razu po wyjęciu z pudełka
System unikania przeszkód
3-osiowy gimbal antywibracyjny z nielimitowanym obrotem 360°
Automatycznie składane podwozie
Szybkomontażowe śmigła
Składane ramiona
Zintegrowane loty autonomiczne
Aparatura ST16+ z wbudowanym, dotykowym 7-calowym wyświetlaczem
Innowacje

Typhoon H to najbardziej zaawansowany dron fotograficzny i videograficzny w takim niewielkim rozmiarze. Projekt napędzany przez popyt klientów, wykracza poza ograniczenia tradycyjnego quadrocoptera. Typhoon H dostarcza mnóstwo niewiarygodnych możliwości, które są niezwykle przystępne cenowo dla konsumenta. Typhoon H oferuje czas lotu do 25min z kamerą CGOET lub CGO3+ na pokładzie. Aparatura sterująca ST16+ wyposażona w system Android wyświetla podgląd obrazu z kamery na żywo w rozdzielczości HD 720p. Umożliwia też tworzenie różnego rodzaju misji autonomicznych.


 
Oglądaj świat w 360°

 
Cyfrowy przekaz video HD 720p

Oglądaj materiał filmowy w czasie rzeczywistym na ekranie aparatury ST16+ w rozdzielczości HD 720p. Zasięg przekazu video do 600m

 

 

 
Team mode

W trybie Team, możesz używać dwóch aparatur jednocześnie. Główny pilot zajmuje się prowadzeniem drona a operator kamery ma pełną możliwość kontroli kamery i jej parametrów.
ST16+ - Wszystkomający kontroler

Aparatura ST16+ to zintegrowany nadajnik i odbiornik z systemem operacyjnym Android który daje pełną kontrolę nad Typhoon H. Dzięki niej, możesz łatwo zaprogramować autonomiczny lot i uchwycić wspaniałe zdjęcia i filmy. Duży 7-calowy ekran wyświetla materiał z lotu oraz dane telemetryczne. Wszystko w czasie rzeczywistym!
Tryb Orbit

Typhoon H lata dookoła ciebie z kamerą skierowaną w twoją stronę.

Punkt zainteresowania

Zaznacz punkt, Typhoon H będzie krążył wokół niego z kamerą skierowaną do środka.

Tryb Journey

Typhoon H wzniesie się na wysokość około 45m i wykona selfie specjalnie dla ciebie.

Tryb lotu po punktach

Zaprogramuj punkty lotu na ST16+ Dron wykona autonomiczną misję podczas której mamy możliwość pełnej kontroli kamery.

Tryb Follow Me / Watch Me

Tryb Follow Me podąża za tobą. Watch me podąża za tobą i kieruje na ciebie kamerę niezależnie od perspektywy lotu.

Szybki powrót do domu

Jednym ruchem przycisku, Typhoon H powróci nad miejsce startu i wyląduje w promieniu 8 metrów od ciebie.
System antykolizyjny

Inteligentne, przednie sonary pozwalają Typhoon H zatrzymać się przed przeszkodą, zapewniając bardziej stabilny i bezpieczny lot.

Bezpieczeństwo

Konstrukcja sześciowirnikowa Typhoon H automatycznie przełącza się w tryb pięciosilnikowy w przypadku awarii jednego z zespołów napędowych. Umożliwia to pozostanie w locie i sprowadzenie maszyny bezpiecznie na ziemię.

 

Szybkomontażowe śmigła

Przyciski zwalniające pozwalają na szybki montaż i demontaż śmigła w prosty sposób. Wysokowydajne śmigła Typhoon H cehują cię dużą responsywnością i idealnym ciągiem w stosunku do masy.

Automatycznie składane podwozie

Podwozie w Typhoon H może zostać złożone automatycznie w powietrzu. Dzięki temu, nogi nigdy nie będą wchodziły w kadr podczas pełnego obrotu 360°.

Składane ramiona

Każde z sześciu ramion można w szybki sposób złożyć co czyni drona wygodnym w przenoszeniu.

Kompaktowa budowa, łatwa w transporcie

Dostępny opcjonalnie plecak do Typhoon H to energooszczędna konstrukcja idealna w podróży.
 
​  
---
Specyfikacja techniczna:
Czas lotu: do 25 minut

Wymiary: 711x711x294mm

5 trybów lotu: Smart, Angle, Home, Orbit, Journey

Maksymalna wysokośc lotu: 122m

Maksymalny wiatr: 10m/s

Opcjonalnie: czujniki Intel Real Sense

Szybkomontażowe śmigła

Czujniki sonarowe

Zabezpieczenie przed awarią silnika/utratą śmigła. Możliwość lotu na 5 silnikach.


ST16+:

Liczba kanałów: 16

Częstotliwość RC: 2.4GHz

Modulacja: protokół Yuneec

Link video: 5.8GHz

Zasięg video: 800m

Zintegrowany tablet z systemem Android TM  


Zawartość zestawu:

Dron Yuneec Typhoon H Pro z Intel RealSense

Gimbal z kamerą termowizyjna CGO ET
Gimbal z kamerą CGO3+ 4K
Aparatura

Wizard Stick 

Aparatura ST16+ - nowa wersja z trzema antenami
Osłona przeciwsłoneczna do aparatury ST16+

2x Akumulator 5400mAh 4S

Dedykowany plecak do transportu

Ładowarka samochodowa
Ładowarka sieciowa

Adapter USB

Zestaw śmigieł 

karta pamięci micro SD


Zapraszamy do lektury naszej recenzji drona Yuneec Typhoon H - |LINK|



AeroMind jest oficjalnym dystrybutorem firmy Yuneec w Polsce.
12 miesięcy - Warranty is granted by the seller for a period of 12 months.
12 miesięcy