In a set
Yuneec Typhoon H Pro z Intel® RealSense™
Najnowszy Yuneec jest niezwykle prosty w obsłudze oraz bezpieczny. System real-sense zapewni m.in. wykrywanie przeszkód na przestrzeni przed dronem. Typhoon H wyposażony jest dodatkowo w tryb "fail-safe", pozwalający na bezpieczne lądowania w przypadku awarii jednego z silników. W zestawie z dronem otrzymujemy 16-kanałową aparaturę RC ST16, wyposażoną w 7 calowy monitor do podglądu obrazu na żywo + Wizzard Stick Gratis! Transmisja video jest przekazywana na ziemię w rozdzielczości HD 720P. * - najnowsza wersja Yuneec Typhoon H z aparaturą ST16 wyposażoną w 3 anteny zapewniające większy zasięg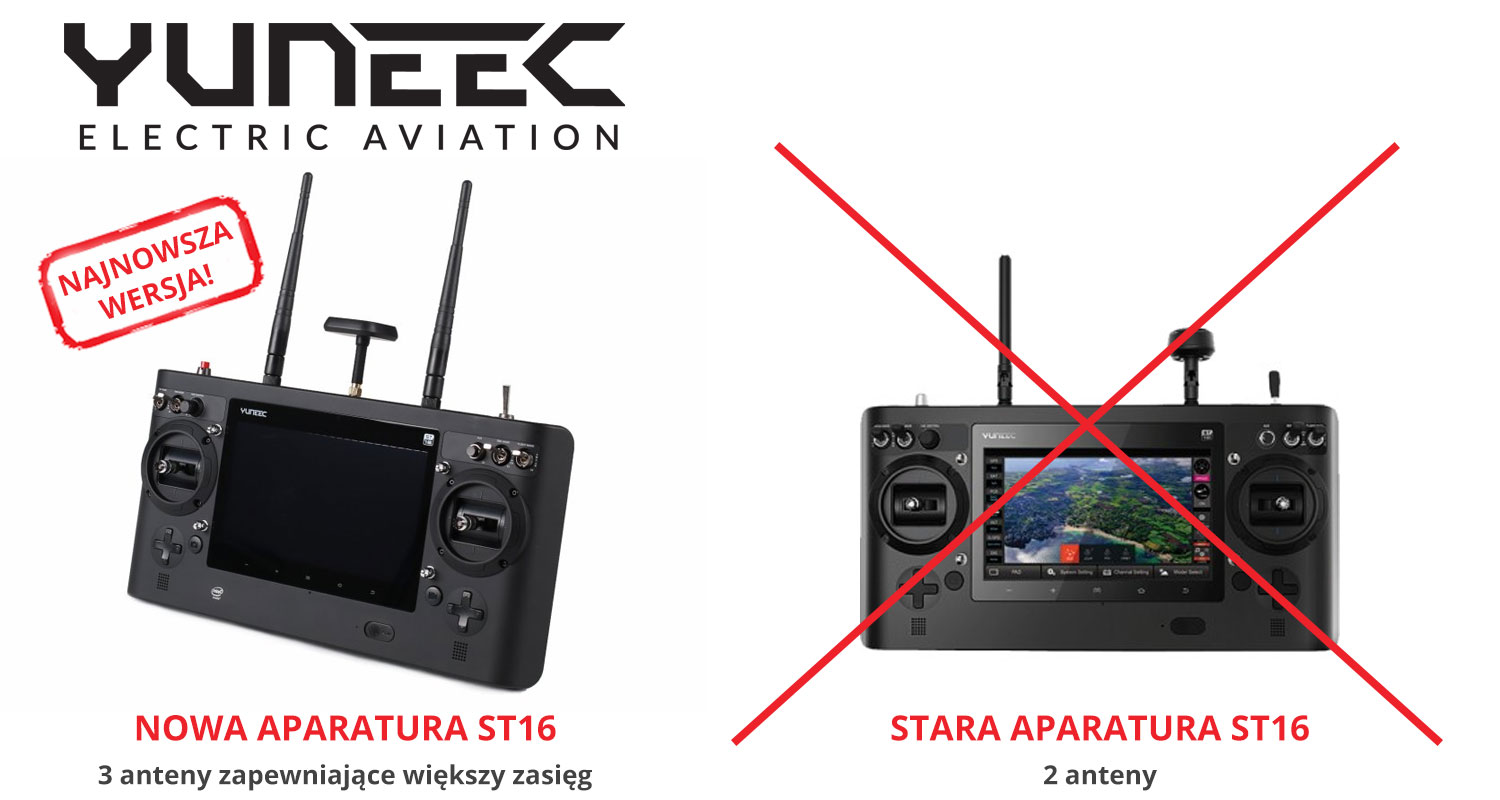 | | |
| --- | --- |
| | |
Jak informuje producent, Typhoon H jest dronem nowej generacji, dedykowaną zarówno dla entuzjastów, jak i profesjonalistów. Wersja rozszerzona Typhoon H będzie zawierała system antykolizyjny RealSense™ dzięki współpracy firmy Yuneec z czołowym gigantem elektroniki i rozwiązań innowacyjnych Intel®. System antykolizyjny będzie się składał z kamery podczerwieni, kamery FullHD i projektora światła laserowego. Urządzenia te pozwalają na wykreowanie rzeczywistości widzianej przez człowieka czyli obraz i ruch. Technologia ta pozwoli na intuicyjne reagowanie drona z otoczeniem w sposób naturalny. Wszystko dzięki wykorzystaniu procesorów firmy Intel®.
Zaczerpnij przyszłości

Gotowy do lotu od razu po wyjęciu z pudełka
System unikania przeszkód
Kamera fotograficzna 4K UHD 30fps, HD 1080p 120fps video / 12 Megapixeli
3-osiowy gimbal antywibracyjny z nielimitowanym obrotem 360°
Automatycznie składane podwozie
Szybkomontażowe śmigła
Składane ramiona
Zintegrowane loty autonomiczne
Aparatura ST16 z wbudowanym, dotykowym 7-calowym wyświetlaczem
Innowacje

Typhoon H to najbardziej zaawansowany dron fotograficzny i videograficzny w takim niewielkim rozmiarze. Projekt napędzany przez popyt klientów, wykracza poza ograniczenia tradycyjnego quadrocoptera. Typhoon H dostarcza mnóstwo niewiarygodnych możliwości, które są niezwykle przystępne cenowo dla konsumenta. Typhoon H oferuje czas lotu do 25min z kamerą CGO3+ 4K UHD na pokładzie. Aparatura sterująca ST16 wyposażona w system Android wyświetla podgląd obrazu z kamery na żywo w rozdzielczości HD 720p. Umożliwia też tworzenie różnego rodzaju misji autonomicznych.

   
Oglądaj świat w 360°

  3-siowy, antywibracyjny gimbal CGO3+ rejestruje ultra-stabilny obraz video w rozdzielczosci 4K UHD oraz wykonuje zdjęcia w rozdzielczoście 12Mpix. Kamera może być obracana w pełnym obrocie 360°. CGO3+ jest wyposażony w wysokiej jakości soczewką z 115° polem widzenia. Kamera ma możliwość wprowadzania manualnych ustawień w czasie lotu.

 
Cyfrowy przekaz video HD 720p

Oglądaj materiał filmowy w czasie rzeczywistym na ekranie aparatury ST16 w rozdzielczości HD 720p. Zasięg przekazu video do 600m

 

 

 
Team mode

W trybie Team, możesz używać dwóch aparatur jednocześnie. Główny pilot zajmuje się prowadzeniem drona a operator kamery ma pełną możliwość kontroli kamery i jej parametrów.
ST16 - Wszystkomający kontroler

Aparatura ST16 to zintegrowany nadajnik i odbiornik z systemem operacyjnym Android który daje pełną kontrolę nad Typhoon H. Dzięki niej, możesz łatwo zaprogramować autonomiczny lot i uchwycić wspaniałe zdjęcia i filmy. Duży 7-calowy ekran wyświetla materiał z lotu oraz dane telemetryczne. Wszystko w czasie rzeczywistym!
Tryb Orbit

Typhoon H lata dookoła ciebie z kamerą skierowaną w twoją stronę.

Punkt zainteresowania

Zaznacz punkt, Typhoon H będzie krążył wokół niego z kamerą skierowaną do środka.

Tryb Journey

Typhoon H wzniesie się na wysokość około 45m i wykona selfie specjalnie dla ciebie.

Tryb lotu po punktach

Zaprogramuj punkty lotu na ST16. Dron wykona autonomiczną misję podczas której mamy możliwość pełnej kontroli kamery.

Tryb Follow Me / Watch Me

Tryb Follow Me podąża za tobą. Watch me podąża za tobą i kieruje na ciebie kamerę niezależnie od perspektywy lotu.

Szybki powrót do domu

Jednym ruchem przycisku, Typhoon H powróci nad miejsce startu i wyląduje w promieniu 8 metrów od ciebie.
System antykolizyjny

Inteligentne, przednie sonary pozwalają Typhoon H zatrzymać się przed przeszkodą, zapewniając bardziej stabilny i bezpieczny lot.

Bezpieczeństwo

Konstrukcja sześciowirnikowa Typhoon H automatycznie przełącza się w tryb pięciosilnikowy w przypadku awarii jednego z zespołów napędowych. Umożliwia to pozostanie w locie i sprowadzenie maszyny bezpiecznie na ziemię.

 

Szybkomontażowe śmigła

Przyciski zwalniające pozwalają na szybki montaż i demontaż śmigła w prosty sposób. Wysokowydajne śmigła Typhoon H cehują cię dużą responsywnością i idealnym ciągiem w stosunku do masy.

Automatycznie składane podwozie

Podwozie w Typhoon H może zostać złożone automatycznie w powietrzu. Dzięki temu, nogi nigdy nie będą wchodziły w kadr podczas pełnego obrotu 360°.

Składane ramiona

Każde z sześciu ramion można w szybki sposób złożyć co czyni drona wygodnym w przenoszeniu.

Kompaktowa budowa, łatwa w transporcie

Dostępny w zestawie plecak Typhoon H to energooszczędna konstrukcja idealna w podróży.
 
​  
---
Specyfikacja techniczna:
Czas lotu: do 25 minut

Wymiary: 711x711x294mm

5 trybów lotu: Smart, Angle, Home, Orbit, Journey

Maksymalna wysokośc lotu: 122m

Maksymalny wiatr: 10m/s

Intel Real Sense

Szybkomontażowe śmigła

Czujniki sonarowe

Zabezpieczenie przed awarią silnika/utratą śmigła. Możliwość lotu na 5 silnikach.


ST16:

Liczba kanałów: 16

Częstotliwość RC: 2.4GHz

Modulacja: protokół Yuneec

Link video: 5.8GHz

Zasięg: 600m

Zintegrowany tablet z systemem Android TM


CGO3+

Matryca 1/2.3 CMOS

Liczba pixeli: 12.4

Rozdzielczość video: 4K UHD 30 FPS, Full HD 1080p 24/25/30/48/50/60/120 FPS

Kąt widzenia: 115 °

Częstotliwość transmisji video: 5.8GHz

Zasięg video: 400m

Pamięć: karta pamięci microSD class 10 do wielkości 128GB

Wymiary: 115x74x135mm

Waga: 195g Nowa wersja z zintegrowanym pierścieniem osi YAW pozwala na pełen obrót 360 °


Zawartość zestawu:

dron,

czujniki RealSense,

aparatura ST16 (nowa wersja z trzema antenami),

2 x akumulator,

Wizard Stick

plecak,

ładowarka,

zasilacz,

adapter USB,  

zestaw śmigieł,

karta pamięci.  


Zapraszamy do lektury naszej recenzji drona Yuneec Typhoon H - |LINK|


AeroMind jest oficjalnym dystrybutorem firmy Yuneec w Polsce.