Hexacopter for professional use with E10Tv Thermal Imaging And Low-Light Camera
In a set
Commercial aerial solution

The H520 is a hexacopter that has been developed for commercial use. The sUAS is the perfect solution for long flight times and a proven and robust technology in an all-in-one package. The H520 is built for inspection, law enforcement, security, construction, surveying, and mapping applications in addition to offering cinematic imaging payload systems.

Built for industrial use and ambitious professionals

The H520 is designed with the inspection industry in mind with six-rotor systems that allow for stable, precise flight, long focal-length lenses that allow the sUAS to fly at greater distance from an object and data storage that may be shared instantly from the ST16S Ground Station or delivered directly in 4K/2K/HD video or 20Mp still images.
Reliable, stable and precise

Even in high-wind environments, the Yuneec H520 sUAS system is able to hold position, allowing the solution to fly even when a manned inspection would be deemed unsafe. Exclusive flight speed control offers slowest speed above stall flight for maximum precision in challenging environments.
Hot-swap payload options
All of our E-Series cameras and the CGOET are hot swap-capable on our sUAS platforms, allowing for significant time-savings through not requiring a power-down/restart of the UAS system. This also allows for consistency of data-storage, rather than using multiple storage devices and locations.  Whether it's thermal imaging, long focal length, or wide focal-length data capture, memory cards may be swapped from device to device.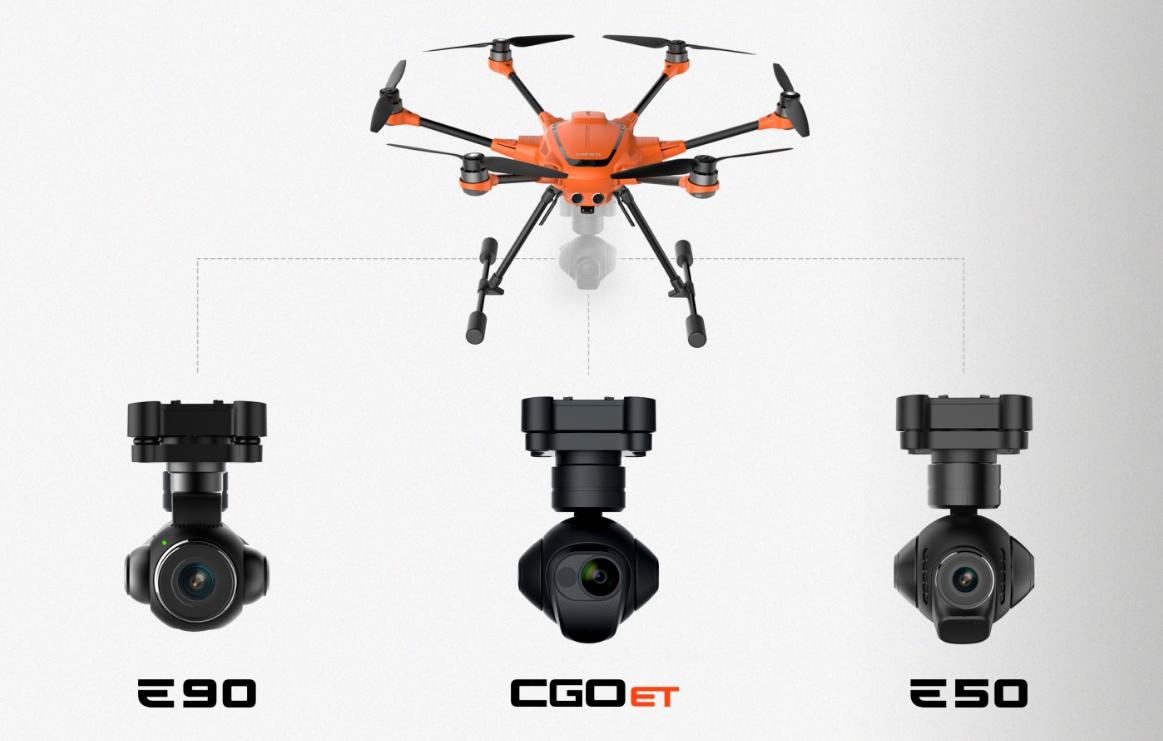 ST16S all-in-one controller

The ST16S Ground Station is an all-inclusive transmitter and receiver that gives you full control over the H520 during flight, allowing users to capture photos and video with great ease. With a large 7-inch integrated screen, the Android-based ST16S controller displays real-time footage of your flight, eliminating the need for an external device. You can also use the ST16S as a mission planner. Plan your flight using the touch screen, and execute your mission with just a single press of a button.
Your benefits at a glance
Designed for professional, commercial and governmental requirements

6 rotors for high safety and redundancy as well as high stability and precision even while experiencing wind and turbulence

Reliable position determination by evaluating GPS, Glonass and Galileo satellites

High-precision, low-interference compass

Good visibility due to bright orange paint

Video downlink encryption according to the WPA2 standard with a dynamic password

No data transfer to an external server

Software is based on solid PX4 code

Intelligent sonar collision avoidance for safe and stress-free flying

Energy efficient and quiet with a flight time of up to 28 minutes with E50 / 25 minutes with CGOET/E90

Numerous, also individual, service and maintenance packages available

ST16S with an integrated 7" touch display, voice output and multilingual comprehensive DataPilot™ software

HDMI signal directly from the ST16S to output the drone's live image onto larger monitors

Mission planning on the computer or on the ST16S, offline maps available, creation of own maps possible

Waypoint and survey missions, including cross-wise flights, suitable for construction surveying, perimeter security, accident reconstruction, 3D scans, orthomaps, area inspections and S&R tasks

2D/3D mapping

DataPilot™ automatically generates the flight route when an area to be scanned is specified, including a possible battery change.

Definition of resolution over inches per pixel or altitude

Missions can be saved for any repetition of the same flight route (e.g., for tracking shots)

SDK available: third-party software and adaptation to your own application are possible.

Capable of being tethered (sold separately)

Lower space requirement and short set-up time

Retractable landing gear and 360 degree endlessly rotatable camera gimbal for precise alignment or a permanent all-round view, even during tethering

Hot-swappable camera/gimbal systems
YUNH520EU
H520 with 2 batteries and ST16S
| Aircraft |   |
| --- | --- |
| DIMENSIONS | 520 x 455 x 295 mm |
| FLIGHT TIME | CGOET: 25 Min / E90: 25 Min / E50: 28 Min |
| WEIGHT (WITH BATTERY, WITHOUT GIMBAL) | 1633 g |
| BATTERY | 4S 5250mAh 15,2V LiPo |
| CHARGER | SC4000-4H |
| REMOTE CONTROL | ST16S |
| MAXIMUM FLYING ALTITUDE | 500 m |
| MAXIMUM ROTATIONAL SPEED | 120°/s |
| MAXIMUM ROTATION ANGLE | 35° |
| MAXIMUM RATE OF ASCENT | 4 m/s |
| MAXIMUM RATE OF DESCENT | 2,5 m/s |
| Remote |   |
| --- | --- |
| OPERATING SYSTEM | Android™ |
| NUMBER OF CHANNELS | 16 |
| TRANSMISSION DISTANCE RANGE (OPTIMUM CONDITIONS) | Up to 1.6km/1 mile |
| VIDEO LINK RESOLUTION | HD 720p |
| VIDEO LINK FREQUENCY BAND | 5.8 GHz WiFi |
| VIDEO TRANSMISSION | FCC Compliance: Up to 1.6km/1 mile / CE Compliance: Up to 1.6km/1 mile |
| FLIGHT SYSTEM TELEMETRY DATA ON SCREEN | Yes |
| LCD SCREEN SIZE | 7" |
| TACTILE AND AUDIO FEEDBACK | Yes |
| BUILT-IN LIPO BATTERY (VOLTAGE/CAPACITY) | 3.6V 8700mAh 31.32Wh Li-ion |
| CONNECTION TYPES | 1x HDMI, 2x USB, 1x head phone |

E10Tv
Thermal Imaging And Low-Light Camera 640 x 512 32° FOV, 14 mm
High-resolution dual camera

 

The E10T with FLIR® thermal sensor for the H520 Hexacopter is a stabilised 3-axis gimbal, thermal imaging and residual light camera all-in-one. The E10T is available with a 320*256-pixel or as E10Tv with a 640*512 thermal imaging resolution. The E10T takes high-quality pictures and detects more details in the dark than the naked eye with the help of its large RGB sensor. Thanks to its dual video stream, you can stream the thermal and residual light image simultaneously to the remote control and then look at the image as an overlay or picture-in-picture. Furthermore, the E10T supports commercial applications such as mission planning.
E10T FLIR® with H520 Hexacopter

The H520 Hexacopter was specially developed for inspection, safety, and search & rescue applications. With its multi-sensor compatibility, the H520 Hexacopter offers emergency services, firefighters, police and inspectors reliable and efficient air support in combination with the E10T thermal imaging and residual light camera.
Thermal imaging applications

When searching for people, the drone enables you to look for people very quickly from the air with the E10T thermal imaging camera. In case of fires, fire hot spots can be detected and allows fast and efficient countermeasure against the fire, which can save lives.
3-Axis gimbal with 360° rotation

The E10T FLIR® camera/gimbal combination is stabilised via 3 axes and thereby provides a still image for inspection and stable pictures. Furthermore, the gimbal can be rotated 360° and provides a full panoramic view with the retractable landing skid.
Interchangeable camera systems

The E10T can be 'hot-swapped' and can be exchanged with any other camera/gimbal combination compatible with the H520 such as the E90 1" sensor camera or the E50 inspection camera. The copter does not have to be restarted when changing the camera systems and prevents any forced breaks, which means that you can always work productively and effectively.
Everything at a glance

E10T FLIR® thermal imaging and residual light camera

640x512 E10Tv thermal resolution

Dual video stream

Compatible with the H520 Hexacopter

Up to 28 minutes flight time with the H520

Hot-swap gimbal

Continuous 360° gimbal rotation

Full camera control via the ST16S

Supports DataPilot and mission planning
Technical specifications
YUNE10Tv32EU
| Camera |   |
| --- | --- |
| CAMERA TYPE | Thermal Imaging And Low-Light Camera for H520 |
| THERMAL RESOLUTION | 640x512 |
| FOCAL LENGHT AND FIELD OF VIEW | 32° FOV, 14 mm |
| WEIGHT | 350 gr |
| DIMENSIONS | 115 x 80 x 130 mm |
| SENSOR | CMOS 1/2,8" 2MP 23mm F2,8 |
| COMPATIBLE COPTER | H520 |
| FLIGHT TIME | DO 28 MIN |
| CONTROL RANG | Tilt:+15° to -90°; Pan:360° Limitless |
| ANGULAR VIBRATION RANGE | ±0.03° |
| MAXIMUM CONTROL SPEED | oś PITCH oraz ROLL: 30o/s; oś YAW: 120o/s |
| ISO RANGE | 100 - 3200 |
| SHUTTER SPEED | 1/30 - 1/8000 s |
| VIDEO RESOLUTION | FHD (1920x1080) / H264 (NTSC) 24/25/30/48/60 kl/s |
| PHOTO RESOLUTION | 16:9, 1920 x 1080 |
| PIXEL SIZE | 12 μm |
| PHOTO FORMAT | PG, TIFF |
| VIDEO FORMAT | MP4 |
| VIEW FIELD | 89,6o |
| THERMAL IMAGING CAMERA | uncooled VOx microbolometer |
| LWIR WAVE LENGTH | 8 - 14 μm |
| OPERATING TEMPERATURE | -10o do +40oC |
| TRANSFER BELT | 5,8 GHz, 2 km range |
| IMAGE RATE | < 9 Hz |
| SENSITIVITY | < 50 mK, @f/1.0 |
| TF SUPPORT | FAT32 (≤ 32 GB) / exFAT (> 32 GB) |
| IMAGE OPTIMIZATION | Yes |
| DIGITAL DETAIL ENHANCEMENT | Yes |
| COLOR & MONOCHROME PALETTES (LUTS) | Yes |
| SPOT METER | >98,5%, no clusters > 3x3 |